It's pretty tough to beat living in Piedmont, CA. I love introducing clients to this oasis in the East Bay, and am delighted to have helped people find their way into some beautiful homes there over the years. It is no surprise that homes are selling over asking; it remains a bucolic setting, seemingly worlds away from the action of the city, but mere minutes away from Oakland and the Bay Bridge.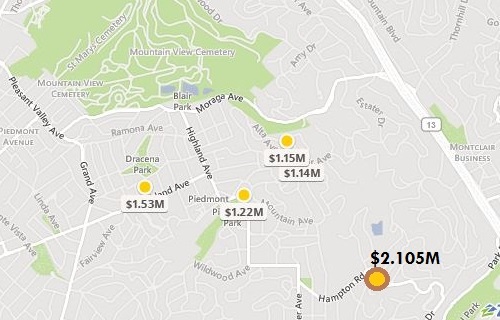 In the map above you can see some of the latest properties I've sold in Piedmont.
Most recently this stunning Upper Piedmont home sold for $2,105,000:


Located in the Oakland Hills, Piedmont is entirely bordered by the city of Oakland. There are historic homes from the early 20th Century, fabulous mansions, and modern oasis on beautiful tree-lined streets with panoramic views of the Bay.
There really isn't a local shopping district – part of what keeps it so quiet and nice. There is our office – the only real estate office in Piedmont, and voted #1 in the East Bay – a bank, the Community Church (where I got married), the Community Center (for receptions and the like), and Mullberry's Market. That's pretty much it, besides having parks all over the place, a community pool, sports fields, and terrific schools.
Just about everything else you could want is super close-by: Piedmont Avenue (which is a terrific shopping district, but lies in Oakland. Just to keep you on your toes!), Rockridge/College Avenue (and its convenient BART Station), is right there, with its bustling European vibe, Lake Merritt is just down the street, and up the hill is artsy Montclair. And, of course, the Bay Bridge is just down the way, as well.
You have access to the necessities – the nice folks at city hall, and the police and firefighting forces, very little traffic, and very little crime. The population of slightly over 10,000 in under two square miles enjoys a Norman Rockwell-y existence that is a rare commodity in today's world – let alone one that's just across the bridge from one the world's premier cities, San Francisco!
Piedmont's schools are some of the best in the state, from K- 12th. 100% of their graduates go on to college, an impressive statistic.
Piedmont High School is ranked in the top (gold) category according to U.S. News.
So clearly the schools are a big attraction for homeowners in this area, which offer a balanced curriculum rich with the arts, sports, and academic opportunities, as well as amazing teachers who are always looking to engage the students.
Also, where else in the world would there be something as awesome as an annual bird calling competition?
Yes, this is another national claim to fame, and honestly one of my favorite things to watch ever – a wholesome kind of fun that can be sadly lacking in our big ol world nowadays.
The competition stems from a bored student at Piedmont High asking for something exciting to do back in 1963. A biology teacher, Mr. Leonard J. Waxdeck, created a show that everyone now knows as the Piedmont Bird Calling Contest. The annual show led to seventeen consecutive appearances on "The Tonight Show with Johnny Carson", followed by appearances on "Late Night with David Letterman" with an invitation to return annually. Although Mr. Waxdeck has since passed away, the tradition continues. This year, this wacky contest was even featured on the front page of the Wall Street Journal! Read the article here.
To see a video of this incredible (and kind of funny!), 50 year old tradition, click here!
The real hidden secret about Piedmont is that it that despite all of its amazing attributes, it is still a better deal (financially) than living in San Francisco.
San Francisco homes are still averaging around $1000 p/sq. ft. or more, while in Piedmont you're looking somewhere more like $750. And in Piedmont you'll get a yard, parks, quiet, and, of course, fantastic schools for all twelve years – good luck finding all that in SF!
Prices have been increasing dramatically over the last couple of years, where homeowners have maintained their equity. Most places in the country tanked after 2007, but Piedmont never did. The three graphs below compare Piedmont's market history since 2000 with neighboring Oakland and Sacramento, which are good examples of the typical real estate market in the U.S.
So yes, you'll be paying more for your home in Piedmont than Oakland, for example, but it will keep its value.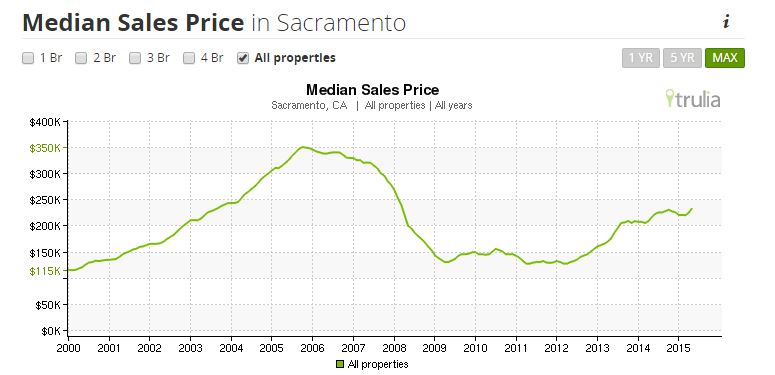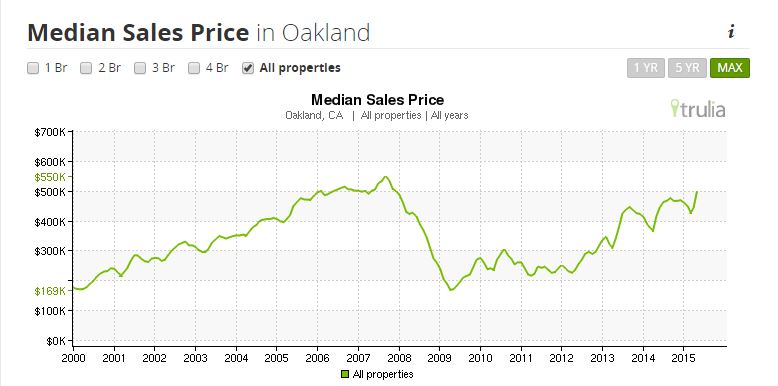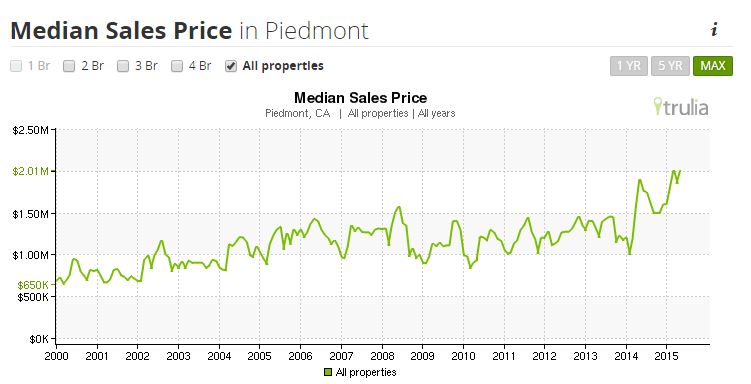 Interest rates are still keeping at an all time low –
meaning that it's still a great time to buy.
And sell!
 Want to live here, too? Just give me a call – I'm glad to help.
Then you might also be one of the famous "Piedmont People" – see below!
The following is from Wikipedia:
Author Jack London wrote Call of the Wild while living on Blair Avenue in a house that exists today; since this predated incorporation, technically he was never a citizen of Piedmont. John F. Kennedy's Secretary of Defense Robert S. McNamara grew up in Piedmont, where his family lived on Annerley Road.[17] Clint Eastwood resided in Piedmont and attended Piedmont schools. Country Joe McDonald resided in Piedmont in the 1970s. Actors Dean Butler (Little House on the Prairie) and Austin Tichenor (Reduced Shakespeare Company) also grew up in Piedmont. Notable tennis player and coach Brad Gilbert grew up in Piedmont. Charles R. Schwab, founder of the discount stock brokerage firm bearing his name, and his family also lived in Piedmont in the early 1980s, as did Dean Witter, founder of Dean Witter Reynolds brokerage, in the 1940s.
Other past notables include Dorothy and Robert DeBolt, who rose to international prominence while raising their 20 children, including 14 adopted, multi-racial and multi-handicapped, to complete self-sufficiency. A 1977 documentary of their family's story, Who Are the DeBolts? And Where Did They Get Nineteen Kids? won an Academy Award.Ruth Leach Amonette, the first woman to become a vice president at IBM, was raised in and attended high school in Piedmont.[18]
Other residents have included: F. Wayne Valley, philanthropist, construction magnate, owner of the Oakland Raiders and founding member of the AFL; Frank C. Havens, for whom Havens Elementary School is named; and James Gamble, president of the Western Union Telegraph Company, who, in 1877, founded the Piedmont Land Company, introducing the name adopted by the city upon incorporation.
Other people who have lived in Piedmont, past and present, include:
Timothy Murray, digital evangelist

Mark Andrews, filmmaker
Billie Joe Armstrong, musician withGreen Day
Richard Carlson, author
James Clifford, historian
Peter Cornell, NBA player and agent
Al Davis, football executive
Alice Dinnean, puppeteer
Clint Eastwood, actor and Oscar-winning director
Erin Fetherston, designer
Alex Hirsch, animator and producer
William F. Knowland, publisher ofThe Oakland Tribune
Joan London, writer
Elsie Whitaker Martinez, artist
Xavier Martínez, artist
Dave McCarty, baseball player
Robert McNamara, defense secretary
Asieh Namdar, television journalist
Wes Nisker, radio personality
Gyo Obata, architect
Ashley Paris, basketball player
Courtney Paris, basketball player
Bill Romanowski, football player
Arun Sarin, ex-CEO of Vodafone
Cynthia Stevenson, actress
Debbie Tenzer, author
David C. Waybur, decorated soldier
Herman Whitaker, writer
Zhaoming Wu, painter
George Zimmer, businessman