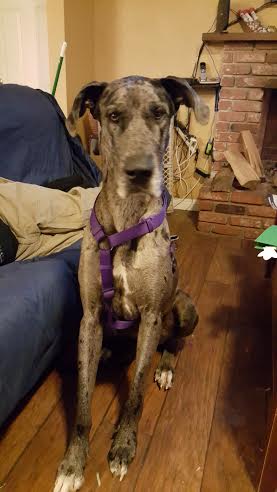 Our beloved ten-year-old Great Dane, Maggie, passed away a couple of weeks ago, and we decided to adopt another.
We were lucky enough to find Paisley, pictured here, in need of a forever home, so we jumped at the chance! She is a rescue from a not-so-good home situation in the LA area, so had to move fast! We rented an SUV and drove and drove, finally ending up at the end of a dirt road. And there she was – the sweetest thing ever, and beautiful, too, although so very skinny as she wasn't fed enough. I don't want to talk about the drive home – she was sick, and nervous, and I ended up holding her in the back for the six hours it took us to crawl up the coast that night… Suffice to say we finally made it to the emergency vet's (VCA Bay Area Vet Specialists in San Leandro – they're wonderful!), around 2am, where they gave her an IV and some pills for her tummy. It isn't all gloom and doom, though, I am having a great time playing Italian grandma, and feeding her lots of small meals every day to help fatten her up! She is so happy and loving; I think she's beginning to realize she just won the doggie lottery.
Jeager, an adorable 7 week old lab, just joined our family a couple of days later!!!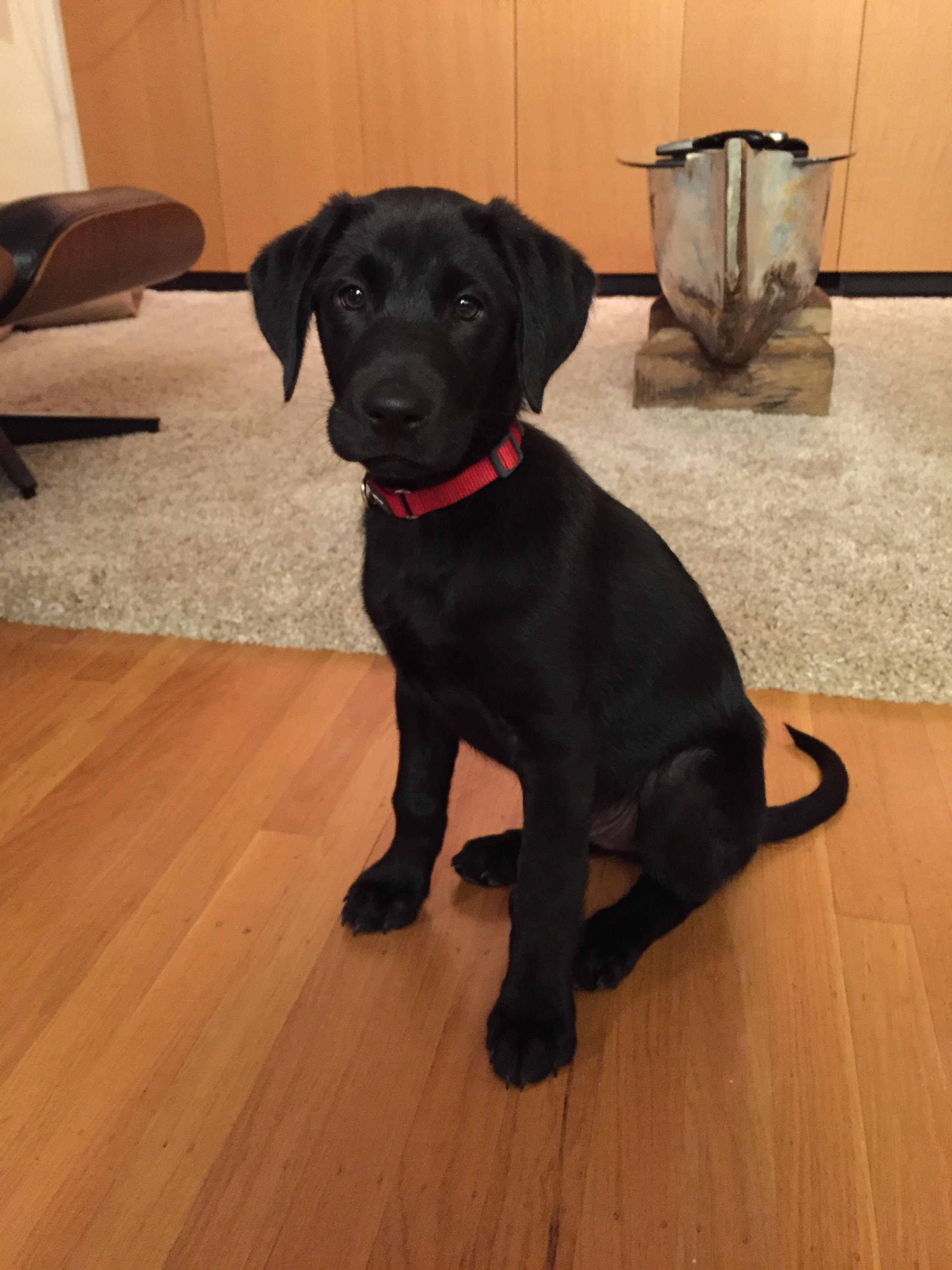 What a perfect way to add some love on Valentine's Day!
---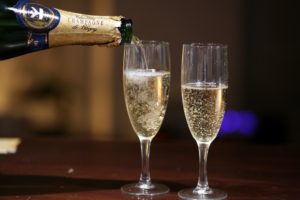 Happy Valentine's Day!
Wondering what today is really all about – more than just a boon for Hallmark and flower shops everywhere? Okay, so it did all start with a certain Saint Valentine, but I've come to take the day like most people seem to – morphed into a day where you declare your love to that special someone, in any way that you like. I just like mine with some bubbles! Love and champagne!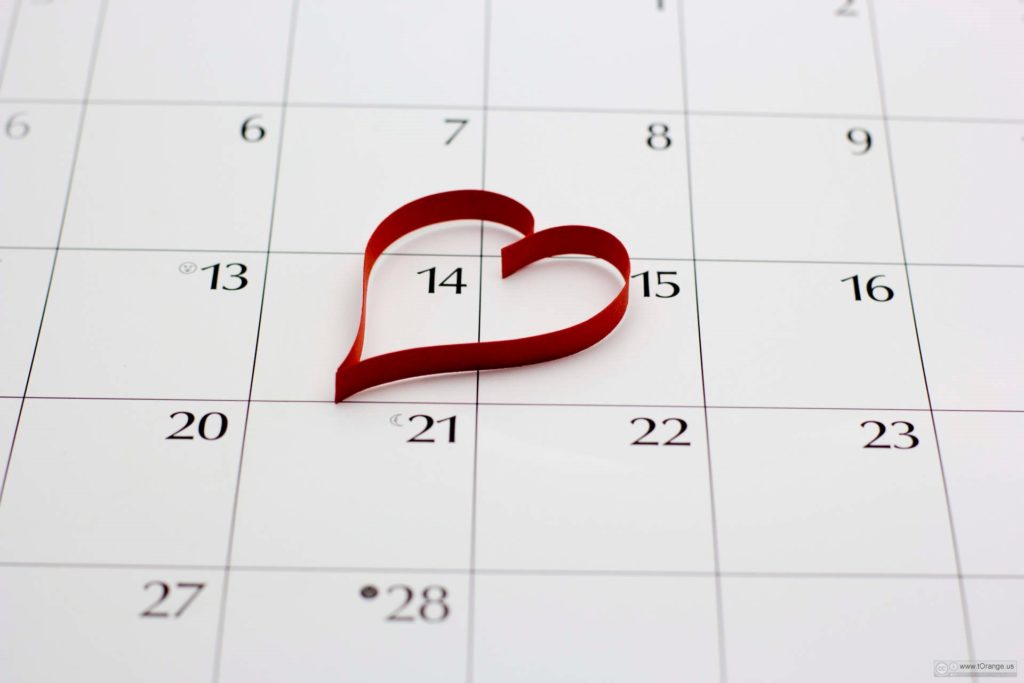 The actual origin of Valentine's day is a mystery and so convoluted that it is no wonder it has become rather murky and "superficial," and what many see as a Hallmark Holiday. I mean, yes to love, and (of course), yes to champagne…but seriously, how'd the whole thing get started, anyway? Trying to understand the origin of Valentine's Day is actually kind of funny.
According to the Catholic Church, it has something to do with "St. Valentine," but which one? History.com says that the Church recognizes around a dozen Saint Valentine's – all martyred (kind of a miracle unto itself that they were all miracle workers, don't you think?).
"St. Valentine has wide-ranging spiritual responsibilities. People call on him to watch over the lives of lovers, of course, but also for interventions regarding beekeeping and epilepsy, as well as the plague, fainting and traveling. As you might expect, he's also the patron saint of engaged couples and happy marriages." – History.com
That is so awesome. What a versatile saint!
This also that explains all of those cute honeybees that are mixed in with the hearts and kissing lips! It's not just a play on words!
Not only does the Catholic Church have way too many Saint Valentine's to keep straight, they seem to have too many saints for everything! I can't imagine how anyone ever keeps track of them all – it's hard enough just keeping up with the names of the schools!
And if the Catholic origin isn't confusing enough, there is also some talk about the pagan festival of Lupercalia that Roman's celebrated on February 15th. The celebration was dedicated to both fertility and the founders of Rome – random! So fertility…sex…lovers…okay, I suppose I get that…
Oh, and one last bizarre tidbit to throw in the mix: during the middle ages in France and England, February 14th marked the beginning of the bird's mating season.
Um… right! So we're back to the birds and the bees! And a lot of versatile saints to call upon, especially for traveling epileptic beekeepers! Thank you Catholic Church!
So let's get back to the real heart of Valentine's Day…champagne!
Now, my favorite is the classic Veuve Clicquot it's absolutely delicious, and has converted many people who say they don't like champagne to big fans before my very eyes. If you're lucky, you can still get it for around $40 – $45 a bottle… but I do miss the days where it could be had regularly for around $34!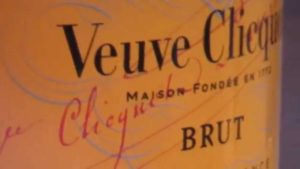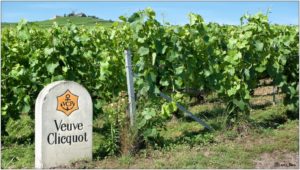 Champagne has murky origins and understanding in common with Valentine's Day, really! It is really just a region in France and a method of making the delicious beverage, but has come to encompass sparkling wines of all kinds, cavas and proseccos – practically anything with a bit of fizz!
So what's the official answer? Still wine is fermented once. Sparkling is fermented twice.
The actual Méthode Champenoise/or Bottle Fermentation method goes like this: After the initial fermentation to make wine, it is bottled with a dose of yeast and sugar. This causes a second fermentation within the bottle. During first fermentation, the CO2 produced is released into the air, then, during this second fermentation, the CO2 is trapped in the bottle – creating the bubblies we all know and love.
Then there's Charmat/the Tank Fermentation method. The still wine is poured into a closed stainless steel container, and the yeast/sugar dose is added and the second fermentation happens in the tank. Once ready, the sparkling is bottled.
So, that's sparkling wine. Confused yet..?
Champagne is sparkling wine produced in the Champagne region of France. Some international law or another only allows sparkling wine made in Champagne to be called Champagne. Californians (and the U.S. in general) has ignored this rule for years, though, which has made it all the more confusing.
Okay, whatever! For those of us not particularly concerned with the details, we'll still call it champagne and no one will know any better (or, perhaps, will care!).
The very sound of a cork being popped makes any occasion feel instantly more special and festive. I love that!
And another great thing about living here is that there are a lot of great price performers to be had – living in California is lucky like France that way! You can get a great bottle of wine (or champagne) for $10 – $15. Then there is a big leap to the $40 $ 50 range, then right on up to the Dom Perignon and Crystal and beyond. As the menu at the Bubble Lounge (SF) reminds us, there really is no end to how much money you can spend if you have it and are game!
But what about the mid range? Where are the $20 – $25 bottles? For a while, it just seemed like there really weren't any, seemed they were scarce, and while I notice more nowadays, it still helps to know where to look.
And I do!
If you're in the city (known to the rest of the world as San Francisco), it's definitely worth your while to check out D & M Liquors. They're smack in the heart of Pacific Heights since 1935, and have one of the best champagne selections – in all price ranges – anywhere! We love them, and when my husband had back surgery, we went there and got a case of fabulousness, which helped with killing the pain tremendously. The fellows who work there are so knowledgeable, too – it's just great.
And in Oakland? Just head on down to Market Hall (in Rockridge)! The staff is wonderful and know their stuff, too, and have a great range as well as nice mid range selection to choose from.
Oh, and Whole Foods (Lake Merritt), has a fantastic magnum (which really makes things liven up!), for under $50!
Throw in a few pomegranate seeds or raspberries for a saucy and delicious little touch, if you feel like it, and Cheers – Happy Valentine's Day!