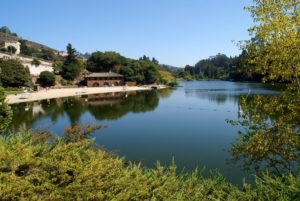 Oakland Rockridge real estate is some of the most desirable in the area. This neighborhood begins at the base of the Oakland Hills, and continues up to Highway 13, next to Montclair.
It has winding streets and a variety of homes architectural styles. A lot of Upper Rockridge was burned in the 1991 firestorm, so grander homes were built, most to take advantage of the bay views.
Lake Temescal is a popular spot there, and not just in summer! There's swimming, trails lining the lake, and piers here and there for fishing or just relaxing.
College Avenue is one the most happening districts in the area, with fantastic restaurants of all kinds and a mélange of unique shops that do love their locals!
It's also home to Hillcrest – one of the area's finest elementary schools.
The tree-lined streets are recipients of some of the nicest weather in the area, as well (a sweet little micro-climate), and the real estate here is some of the most coveted in the East Bay.
For information on schools, go to: