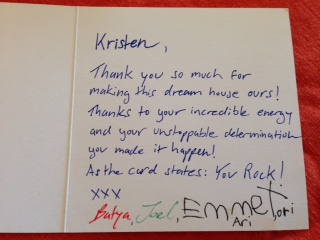 …made the whole transaction smooth and easy…
"Kristen was the only agent who really listened to what I wanted. She made the whole transaction smooth and easy, explained options as we progressed, and negotiated diligently as we progressed. We never felt as if it was moving too fast or that we were not in the driver's seat. We love our house, and would recommend her to anyone who needs someone who'll take the time to truly listen to what they're after, then have the ability and local knowledge to help them to get the place of their dreams!" – Mark and Heather Thornsley, Oakland, CA
…knew how to manage every aspect…
"Kristen helped me realize my dream. We worked together to make an offer on the home my son and I knew was ours the moment we crossed the theshhold. She made the whole overwhelming experience easy to navigate. She advised me on what our offer should be and when to flex. She was well connected and knew how to manage every aspect of this super fast-paced negotiation. Kristen was an incredible partner through every step of the process and you would be very fortunate to have her on your team. She is an absolute gem and has become a true friend!" – Sylvia Doane Stephenson, Oakland, CA
…really did have my best interests at heart…
"I chose Kristen when I bought my first house – skeptical that I even needed an agent in the first place. I'm so glad I did! Her efforts proved invaluable. It was an extremely competitive market at the time, and after months of being outbid, I had the opportunity to go into contract – but she knew it wasn't the right house for me. I think any other agent would've been grateful for this sale – or any sale at that point – to go through. Kristen was different, though, and really did have my best interests at heart. We held out and I found the house of my dreams! I still have a big grin on my face every time I go home. And I'm no longer skeptical!" – John D.
…she knows how to make things happen…
"I needed to sell a large old fixer. It was a daunting task: the house needed work, the economy was poor, and the market was sluggish. Following Kristen's advice, we made a few key changes to the property and placed it on the market. Although comparable homes were not selling, we were able to secure a solid offer in short order due to Kristen's marketing strategy and her intimate knowledge of the real estate market. She is extremely familiar with the unique charm and quaintness of the homes in the area, and she knows how to make things happen." – Jeff Vietzke, Fresno, CA
…very patient in finding us the right home…
"Kristen was very patient in finding the right home for us and our three girls. She found us the perfect home in Piedmont. We viewed the home before it went on the market, put in an offer one day after the open house, and our offer was accepted that same night. We also sold our home in the Oakland hills for 20% over asking and closed escrow within three weeks. Because of her professionalism, her knowledge of the neighborhoods, and her connections with other agents, we were able to purchase and sell all within a one month time frame. We truly loved working with Kristen and enjoyed her wonderful sense of humor along the way." – Van H. and Tammi L.